Mission 2014: Sharing The Love of Jesus
April 2014 Theme
Prayer
Prayer is a very important part of Christian living.  Prayer is important because it recognizes God for who He is and is an outward demonstration of our desire to grow in our knowledge of Him and lead a life that is pleasing to Him.  Prayer is talking to God about what is on your mind. It may be about understanding scripture, or healing for a friend who is ill, about the new job offer, or just because you want God to know that you love Him. Pray is about relationship with God, it is worship, it is sharing, it is caring – it is seeking the best for the entire world through your relationship with God. Prayer is about Christian Love!
Intercessory Prayer Need!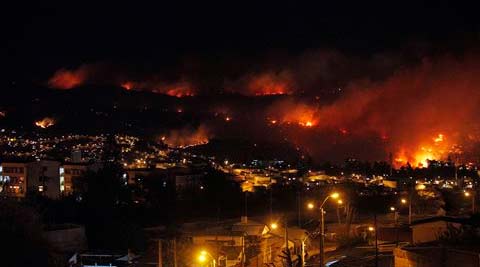 First of all, then, I urge that supplications, prayers, intercessions, and thanksgivings be made for all people, for kings and all who are in high positions, that we may lead a peaceful and quiet life, godly and dignified in every way. This is good, and it is pleasing in the sight of God our Savior,… 1 Timothy 2: 1-3 (ESV)
The pictures above depict intercessory prayer needs. World leaders in need of God's guidance, tragic accidents, intentional infliction of serious bodily harm, Mother Nature withholding rain, missing passenger planes, military provocation, and needed revival, are all in need of prayer, your prayer. You do not need military might, guns, or a fancy title to change the world. The world is changed one prayer at a time. Become a world changer –be in a constant state of Prayer!
The Bible passage for meditation, prayer, and reflection for the week of April 20 - April 26, 2014, is Mark 14:32-42. Jesus and His disciples have celebrated their final meal together, which included the first communion. Together, they went to the Garden of Gethsemane near Mount Olive. It was one of Jesus' favorite places, as He went there frequently. Today's passage describes Jesus' final hours before His arrest.
And they went to a place called Gethsemane. And he said to his disciples, "Sit here while I pray." And he took with him Peter and James and John, and began to be greatly distressed and troubled. And he said to them, "My soul is very sorrowful, even to death. Remain here and watch." And going a little farther, he fell on the ground and prayed that, if it were possible, the hour might pass from him. And he said, "Abba, Father, all things are possible for you. Remove this cup from me. Yet not what I will, but what you will." And he came and found them sleeping, and he said to Peter, "Simon, are you asleep? Could you not watch one hour? Watch and pray that you may not enter into temptation. The spirit indeed is willing, but the flesh is weak." And again he went away and prayed, saying the same words. And again he came and found them sleeping, for their eyes were very heavy, and they did not know what to answer him. And he came the third time and said to them, "Are you still sleeping and taking your rest? It is enough; the hour has come. The Son of Man is betrayed into the hands of sinners. Rise, let us be going; see, my betrayer is at hand." (Mark 14:32-42, ESV)
It was very late, possibly even the early hours of the next morning, when the group headed out to pray. The disciples were tired and unable to remain awake and pray. They did not fully comprehend what was coming. They did not realize how badly they needed to pray for strength and courage. In this passage, Jesus is portrayed as very human. He was fearful, sorrowful, grievous, and troubled, so much so that He sweat blood according to Luke. He could have used the prayers of His friends, instead they slept.
The disciples did not know the events that were rapidly going to enter and change their lives - neither do we! We never know when a test or a trial is going to come into our lives. We never know when our life is going to change. Jesus was not only encouraging us His disciples to stay awake and pray, He is encouraging us! When you decide to run a full marathon, you do not show up the day of the race without having run the previous weeks. You spend weeks training, strengthening and preparing your body. We must treat our spiritual relationship with Jesus Christ the same way. We must train to rely on Him and turn to Him in all circumstances. We must strengthen our relationship to learn when and how He is talking to us. We must be prepared to trust in Him when we face our trial. As you meditate, pray, and reflect on this week's verse, consider how do you show up on race day?