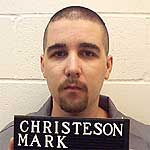 Update: Tuesday, October 21, 2014  10:29 am EDT
Mark Christeson is scheduled to be executed at 12:01 am CDT, on Wednesday, October 29, 2014, at the Eastern Reception, Diagnostic, and Corrections Center in Bonne Terre, Missouri.  Thirty-five-year-old Mark is convicted of the murder of Susan Brouk and her children, 12-year-old Adrian and 9-year-old Kyle, on January 31, 1998, near Vicky, Missouri.  Mark has spent the last 14 years on Missouri's death row.
Mark had a difficult childhood.  He was abused and had several traumatic experiences.
Mark Christeson and his cousin, Jesse Carter, planned to run away from the relative's home at which they were staying.  On February 1, 1998, the two each took a shotgun and went to the nearby home of Susan Brouk, who was home with her two children, Adrian and Kyle.  Carter tied up the children while Christeson took Susan into a bedroom and raped her.
Christeson returned Susan to the room with the children, one of whom recognized Carter.  Since they were recognized, Christeson decided they had to "get rid of 'em."  Susan, Adrian, and Kyle were forced, at gunpoint, into the back of Susan's Bronco.  Christeson and Carter also loaded a television, VCR, stereo, video game player, and other small items into the vehicle.  Christeson drove the group to a nearby pond, where everybody exited the vehicle.  
Christeson kicked Susan hard in the ribs, causing her to fall.  He then slit her throat twice with a bone knife.  Susan did not die immediately.  Christeson then slit Kyle's throat and held him under water until he died.  Adrian attempted to free herself, but was unsuccessful.  Carter held her feet while Christeson suffocated her with his hands.  Kyle and Adrian were pushed into the pond.  Susan, still alive, was thrown in on top of them.  Christeson used a stick to push them further out into the water.
Christeson and Carter returned to the Bronco and drove it to their relative's home, where they loaded it with their belongings.  They then headed west, selling their stolen merchandise for food and gas.  They were arrested on February 9, 1998, in Blythe, California.
Jesse Carter testified against Mark Christeson.  Jesse received three life sentences.  Mark received the death sentence.
Please pray for peace and healing for the family of Susan, Adrian, and Kyle.  Please pray for strength for the family of Mark.  Please pray that Mark may come to find peace through a personal relationship with Jesus Christ, if he has not already.