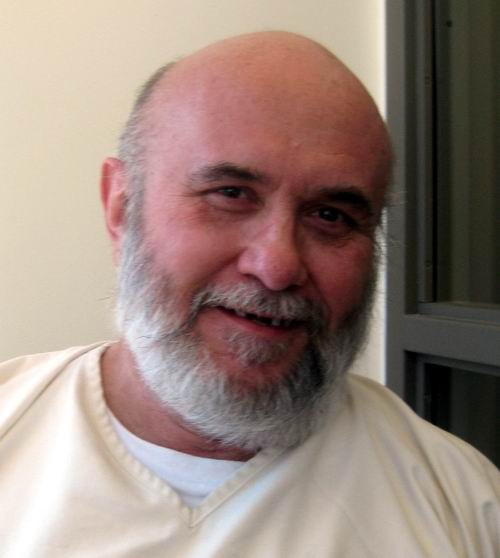 Updated: Friday, October 12, 2018  9:46 am EDT
Edmund "Ed" George Zagorski was scheduled to be executed at 7 pm CDT, on Thursday, October 11, 2018, at the Riverbed Maximum Security Institute in Nashville, Tennessee.  He has been granted a 10-day reprieve by Tennessee Governor Bill Haslam.  Sixty-three-year-old Ed is convicted of murdering John Dale Dotson and Jimmy Porter on April 23, 1983, in Robertson County, Tennessee.  Ed has spent the past 34 years on Tennessee's death row.
Just days before his execution, Ed asked to be executed via electric chair instead of lethal injection.  His request was initially denied, as there was not time to prepare, however, Governor Haslam issued a 10-day reprieve in order to allow time for the arrangements to be made to use the electric chair.  Further, Ed was also granted a stay of execution by the 6th Circuit Court of Appeals.  That stay has been vacated by the Supreme Court of the United States.  A new execution day will be set by the Tennessee Supreme Court.
Ed was born in Michigan and grew up in a very poor family.  Ed never completed high school and had a learning disability.  He had trained to become a boat captain.
Ed Zagorski first met John Dotson at a trout farm in Bucksnort, Tennessee on April 5, 1983.  Zagorski claimed to be a mercenary from Central America.  Zagorski agreed to supply John with a large marijuana purchase, 100 pounds for $23,000.  Zagorski told John that the marijuana would be dropped by airplane on April 21, 1983.
Zagorski informed John when the marijuana  had arrived and the two arranged to meet at Spot, Tennessee, on April 23, 1983, around 6 pm.  John and his friend Jimmy Porter met at a tavern with the money before going to meet Zagorski.  The tavern operator saw the money in the bag, along with a pistol.  They left in Jimmy's red truck and were never seen alive again.
Around 5:30 pm, the owner of the trout farm and his girlfriend heard gunshots from the area they knew Zagorski had gone to meet John and Jimmy.  Gunshots were not an unusual occurrence because of deer hunting.
On May 6, 1983, the badly decomposing bodies of John and Jimmy were discovered in a wooded area.  Both men had been shot and had their throats cut.  Near the bodies, a cartridge was discovered that was later identified to have been fired from Zagorski's HK 91 semi-automatic rifle.  Other items belonging to, or identical as items Zagorski possessed were also discovered.  Although the time of death could not be determined for John or Jimmy, it was determined that the gunshot ultimately killed them and that they had been drinking prior to their deaths.
In late April, Zagorski arrived at a friend's home in Ohio and had in his possession several items that had belonged to John and Jimmy, including Jimmy's truck.  He also had a large amount of cash.
On May 26, 1983, Zagorski was arrested in Ohio after a shoot-out with police.  During the shoot-out, Zagorski shot a special deputy five times.  After his arrest, he gave several versions of what happened between himself and John and Jimmy.  Zagorski was sentenced to death on March 27, 1984.
Ed Zagorski is part of a class-action lawsuit against the state of Tennessee, regarding its lethal injection protocol.  Lawyers for Ed and the other inmates are arguing that the three-drug cocktail used in lethal injections amounts to torture, leading to their deaths.  The case is scheduled to go before the Tennessee Supreme Court in October 2018.  Additionally, Ed attempted to halt his execution by by arguing that he received faulty legal representation.  A federal judge has rejected the argument, although his lawyers are hopeful that other appeals will be successful in halting his execution.
Tennessee Governor Bill Haslam has announced that he will not halt the execution of Ed.  Ed was requesting clemency based on his good behavior during his time on death row the past 34 years and because some of the jurors from his trial have recently stated that they would have preferred to have sentenced him to life in prison without the possibility of parole, instead of the giving him the death penalty.  A sentence of life in prison without the possibility of parole was not an option at the time of Ed's trial.  In his statement rejecting clemency, Governor Haslma noted that, "Ten courts, including the Tennessee Supreme Court and the Supreme Court of the United States, have reviewed and upheld the jury's verdict and sentence, and the Tennessee Supreme Court has held that the addition of life imprisonment without the possibility of parole as a sentencing option does not affect previous verdicts."
Please pray for peace and healing for the families of John and Jimmy.  Please pray for strength for the family of Ed.  Please pray that if Ed is innocent, lacks the competency to be executed, or should not be executed for any other reason that evidence will be presented prior to his execution.  Please pray that Ed will come to find peace through a personal relationship with Jesus Christ, if he has not already.