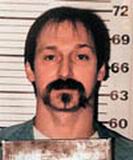 Update: Monday, August 17, 2015  11:51 am EDT
David Earl Miller was scheduled to be executed at 7:10 pm CDT, on Tuesday, August 18, 2015, at the Riverbed Maximum Security Institute in Nashville, Tennessee.  Fifty-eight-year-old David is convicted of the murder of 23-year-old Lee Standifer on May 20, 1981, in Knoxville, Tennessee.  David has spent the last 33 years of his life on Tennessee's death row.
As a child, David was negated by his mother and abused by his step-father.  David spent time in a detention home, where staff member would sexually and physically abuse the boys.  David dropped out of school in the eighth or ninth grade.  Prior to residing in Knoxville, Tennessee, David hitchhiked, stopping to work for money.
By May of 1981, David Miller was living with Benjamin Calvin Thomas, an ordained minister and school principal.  During his time living in Knoxville, Miller was known to have spent time with Lee Standifer, who had a mild mental disorder.  On May 20, 1981, Miller and Lee conversed by telephone.  Miller was then seen walking to the local YWCA, where Lee resided.  Throughout that day, Miller and Lee were seen at various places in downtown Knoxville, Tennessee.  
When Benjamin arrived home that night, he noticed that basement garage was wet and that Miller was sitting on the stairs to the basement in only his pants.  Benjamin also discovered two streams of blood leading from the living room to the dining room and kitchen area.  When Benjamin asked for an explanation, Miller claimed that he had been in a fight and had received a bloody nose.  Benjamin said that he thought the carpet was ruined and kicked Miller out the following morning, believing he intended to hitchhike to Texas.
The following evening, Benjamin noticed a blue shirt hanging from a tree in his back yard.  When Benjamin investigated, he found a nude female body lying face up in the yard, covered in blood.  Benjamin immediately called the police.   The woman, Lee, had been stabbed numerous times in the back, chest, and head, with an unspecified instrument.
Miller was arrested on May 29, 1981, in Columbus, Ohio.
David Miller has been granted a stay of execution due to an ongoing legal batter over the state's execution protocol.
Please pray for peace and healing for the family of Lee.  Please pray for strength for the family of David.  Please pray that if David is innocent or lacks the mental competency to be executed, evidence will be presented before his execution.  Please pray that David may come to find peace through a personal relationship with Jesus Christ, if he has not already found one.