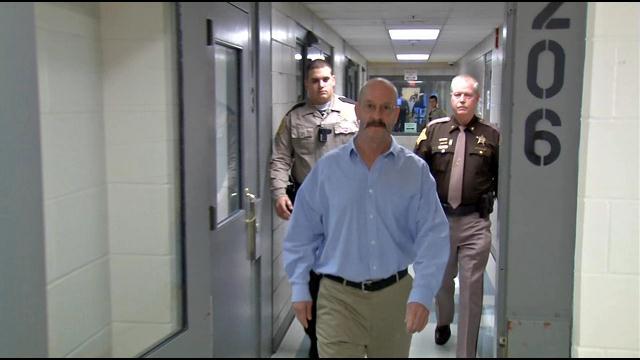 Update: Monday, November 24, 2014  12:16 pm EST
William Clyde Gibson was given an execution date of November 26, 2014, after he was convicted and sentenced to death for the murder of 75-year-old family friend Christine Whitis in William's New Albany, Indian home on April 19, 2012.  In Indiana, executions are performed shortly after midnight at the Indiana State Prison in Michigan City, Indiana.  Execution dates are given when the convicted is sentenced to death, however, William has all of his appeals left to complete, including appeals that are automatic when given a penalty of death.
William, now 55, is the youngest of four children and was verbally abused by his father growing up.  He attended New Albany High School and joined the military in 1976 at the age of 17, where he served for four years.  During his service, he was arrested for stealing a car in Germany.  He was discharged for bad conduct and sentenced to one year in military prison at Fort Leavenworth, Kansas.  After leaving the military, he married and received a divorce 12 years later.  As an adult, William became addicted to alcohol and cocaine.  He was also known to use acid and heroin, which could lead to a week long blackout.  William has a long criminal record, with 10 criminal convictions in 20 years, which includes convictions for sexual assault, auto theft, and possession of stolen property.  He received an associate's degree while he was in prison.  Prior to his arrest, he worked as a tree trimmer.
William Gibson's mother and Christine Whitis were good friends.  In January of 2012, Gibson's mother passed away, which was hard on Gibson.  It is believed that on April 19, 2012, Christine went over to Gibson's house to check on him and see if he needed anything.  Gibson attacked her and strangled her to death.  He was arrested later that day while driving intoxicated in Christine's vehicle.  
Christine's body was found later that day by one of Gibson's family in his garage.  She had been raped and maimed before she was murdered.  When police questioned him, he implicated himself in Christine's murder, but also in the 2002 murder of 45-year-old Karen Sue Hodella, a beautician from Port Orange, Florida.  She was reported missing in October of 2002, and her body was discovered in January of 2003, in Clarksville, near the Ohio River where it had dumped.
When police searched Gibson's property, they found the body of 35-year-old Stephanie Kirk from Charlestown, buried in his backyard.  She had been sexually assaulted and strangled in March of 2012.  Stephanie had met Gibson at a local tavern.
William received a death sentence for the murder of Christine in November of 2013.  He received a 65 year sentence for the murder of Karen after pleading guilty during the first half of 2014.  On August 15, 2014, William received a second death sentence for the murder of Stephanie.
Please pray for peace and healing for the families of Christine, Karen, and Stephanie.  Please pray for the family of William Gibson.  Please pray that William may come to find peace through a personal relationship with Jesus Christ, if he has not already found one.