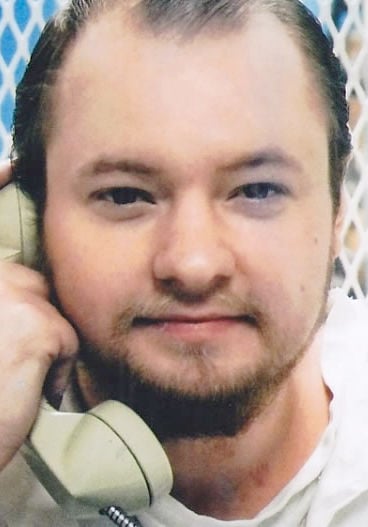 Updated: Monday, January 14, 2019  3:50 am EST
The Texas Court of Criminal Appeals has stayed the execution of Blaine Milam.  The stay was granted over appeals regarding bite mark science, which was used to help convict Blaine but has been discredited by much of the scientific community since then.  Additionally, the laws regarding intellectual disability and the death penalty have been changed since Blaine's trial.  According to his lawyers, Blaine should be exempt from execution due to his mental states.  The Texas Court of Criminal Appeals has remanded the case to a lower court for review.
Updated: Monday, January 14, 2019  10:50 am EST
Blaine Keith Milam's execution is scheduled for 6 pm CST, on Tuesday, January 15, 2019, at the Walls Unit of the Huntsville State Penitentiary in Huntsville, Texas.  Twenty-nine-year-old Blaine is convicted of the murder of 13-month old Amora Carson in Rusk County, Texas, in December 2008.  Blaine has been on death row in Texas for the past eight years.
Blaine did not have a prior prison record.  He dropped out of school after the 4th grade and was not working at the time of his arrest, although he had worked previously.  According to Blaine's mother, Blaine stopped maturing emotionally at the age of 12 and used methamphetamine off-and-on.  Blaine took the death of his father hard, twice trying to commit suicide.  At the time of the murder, Blaine was on probation for solicitation of aggravated sexual assault of a child under the age of 14.
Blaine Milam and Jessica Carson met in January 2008, and became engaged on prom night.  When they met, Jessica had  recently had a child, Amora, with another man.  Shortly after becoming engaged, Carson moved in with Milam. 
At 10:37 am, on December 2, 2008, police received an emergency call from Milam.  His first words were "My name is Blaine Milam, and my daughter, I just found her dead."  By the time police arrived 20 minutes later, two ambulances were already at the scene.  Police found EMTs standing in the doorway of the master bedroom, in which Milam and Carson were kneeling over an infant on the floor.
The first responding police officer observed that the baby was bruised and not breathing of moving.  Another police officer arrived and Milam and Carson were separated for questioning.  Milam told the police that the couple had left the child sleeping in order to walk up the road to talk to a man about clearing some land for them.  Upon their return, approximately one-hour later, Milam stated that they "found the baby in that condition."  Milam was cooperative with the police, giving consent for the search of his car and home.
Milam was then interviewed by a Texas Ranger, where he claimed that they had found Amora in a hole in the bathroom floor, which was being remodeled, and that Amora was still alive when he called the police.  Milam later changed his story, saying that Carson called the police before they had found the baby, and that when they found her, she was dead.  Milam denied any involvement in the death of Amora.  By the end of their conversation, the Texas Ranger considered Milam a suspect.
The Ranger also interviewed Carson, who was at first "crying and acting very distraught," before drastically changing her demeanor.  She started referring to Amora as "that baby," and told the Ranger a story he described as "extremely bizarre."
When police talked to the man Milam and Carson said they had met with that morning, he denied any meeting with them on December 2.  Further, video surveillance showed that the couple had visited a pawn shop, and pawned two items.  Milam's sister received a phone call from around 9:30 am, in which Milam said he had "found Amora dead." 
A search of the trailer revealed extensive DNA evidence, making it highly unlikely that Amora was killed anywhere else.  Additionally, police received a tip from Milam's family, after his sister visited him in jail, that there was more evidence under the trailer.  Police obtained a search warrant and discovered more evidence that matched previously discovered evidence.  
The medical examiner in the case testified that the injuries to Amora were extensive, making it impossible to determine an exact cause of death.  Many of the injuries would have been fatal on their own.  Numerous bite marks were also discovered on Amora's body.  An expert was able to testify with "reasonable degree of dental certainty" that a number of the bite marks were from Milam.  Carson was excluded from all but one of the bite marks.  Milam's brother was also tested.  He did not match any of the bite marks.
During Milam's trial, his attorneys focused on Carson as the murderer.  Milam's trial had to be moved from Rusk County, where the murder occurred, to Montgomery County, due to the notoriety of the case.  In May 2010, Milam was found guilty of capital murder and sentenced him to death.  One year later, Carson was also found guilty and sentenced to life in prison without the possibility of parole.
During Carson's trial, she alleged that Milam was controlling and violent.  Additionally, she alleged that at the time of Amora's death, Milam was performing an exorcism on the girl.
Milam currently has several appeals pending before the Texas Court of Criminal Appeals, in an attempt to halt his execution.  One of his appeals focuses on the bite mark evidence used at his trial, arguing that bite mark science has been discredited.  Milam's lawyer is also arguing that Milam q\was not mentally competent at the time of the crime, and challenging the conviction under the Law of Parties.
Please pray for peace for the family of Amora.  Please pray for strength for the family of Blaine Milam.  Please pray that if Blaine is innocent, lacks the mental competency, or should not be executed for any other reason that evidence will be presented prior to his execution.  Please pray that Blaine may come to find peace through a personal relationship with Jesus Christ, if he has not already.